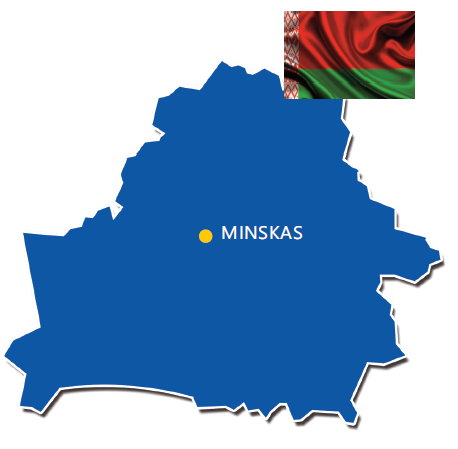 With Delamode Baltics you can easily reach Belarus too. Cargo transportation to Belarus is carried out every day (groupage cargo leaves on a daily basis). We transport cargos to and from Belarus safely and operatively – transit time is only three calendar days. Partial loads carried on this route are collected every day. They are transported by Delamode Baltics in loaded vehicles: auto trains or coated axle trailers. At the customer's request, we offer the maximum convenience – the possibility to deliver cargos very quickly, using express delivery (the service is provided by the company's minibuses, which will deliver cargos to the receiver as soon as possible). We can arrange for any cargo and make sure that it meets any destination in time. We work fast and efficiently, therefore, we ensure that our clients will always be able to offer their services tailored to their needs and capabilities. The ultimate goal of Delamode Baltics is to become an unrivaled leader in their field, and therefore the highest quality of service provided and professionalism of the team are our greatest values of continuous investing.
Freight transportation services
The goods transported in the direction of Belarus can be taken in any region. We take care not only for safe transportation, but also for other formalities: we arrange documents, other customs procedures. We work in an organized manner and always strive for the maximum benefit to the client, therefore we do not trust our cargo with one. We transport 8-10 trailers of groupage cargo every week from and to Belarus.
Freight transportation in Belarus
Cargo transportation in Belarus, as in any other direction, is carried out quickly and efficiently. Delamode Baltics makes sure that the packages trusted by us reach the recipient in a timely manner at any point in the world. We can always offer flexible cargo transportation services both to Belarus and to other countries. It does not matter what volume or type of cargo you need to transport – one, several dispatches or carry out a project shipment – our specialists will provide the best transport conditions.
Possibilities of freight transportation to Belarus
Delamode Baltics offers the possibility of flexible cargo transportation to Belarus. We will offer not only a competitive price, but also a wide range of services: from warehousing, gathering up to delivery to the recipient in the hands. Cargo transportation to Belarus is closely supervised, we offer various packages for transportation: from bulk to oversized cargo.
Service peculiarities
– Competitive prices and reliable delivery times
– Customs brokerage services
– Daily departures
– 8-10 trailers with partial loads per week