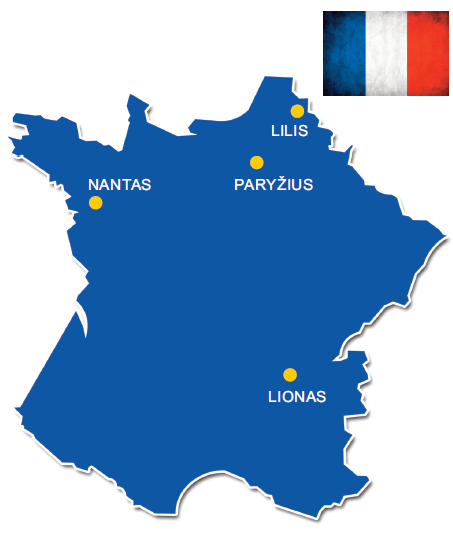 Delamode Baltics is a well-developed freight transportation network, so we can offer quality services to many European and world countries. One of the areas where freight is regularly organized is France. Every week, more than 200 freights are transported in this direction (both from and to France). These are 5-10 full trucks. We collect partial freights every day, and their transit time is 4 days.
The route France – the Baltic countries or vice versa, we offer different types of freights, including those requiring special care (Delamode Baltics carries ADR permits). Freights can be transported by auto trains, awning covered trailers and refrigerators.
One of the biggest advantages of cooperation with Delamode Baltics is the extremely fast delivery of freights. At the customer's request, we can deliver special express deliveries by freight vans, and in order to maximize comfort, we can offer freight delivery services up to the door of the customer. Also, arrange all the necessary customs documents and take care of other procedures.
Delamode Baltics team works to ensure the quality of the services, therefore, it is possible to contact the managers not only during the work – all the problems are solved extremely promptly, with the client constantly maintaining close contact.
Freight transportation in France
Freight to and from France is one of the most popular services offered by Delamode Baltics. We are one of the leading logistics companies not only in Lithuania but also in the Baltic States, which gives us the opportunity to ensure high quality of service and attractive conditions for freight to customers both in France and other European countries.
Possibilities of freight transportation to France
Looking for a reliable and powerful partner to transport your freight? Delamode Baltics is exactly what you need. The company's freight transportation to South Europe or in any other direction is always a good choice, as our team works to achieve the best result that is in line with the customer's expectations. Contact us and we will ensure that you have good freight transportation options.
Service peculiarities
– Daily collection and delivery throughout France
– Competitive prices and reliable delivery times
– Express deliveries per 48 hours.
– Transportation of ADR goods
– Ability to maintain 2 different temperature regimes in the trailer
– 3-5 trailers with partial loads per week