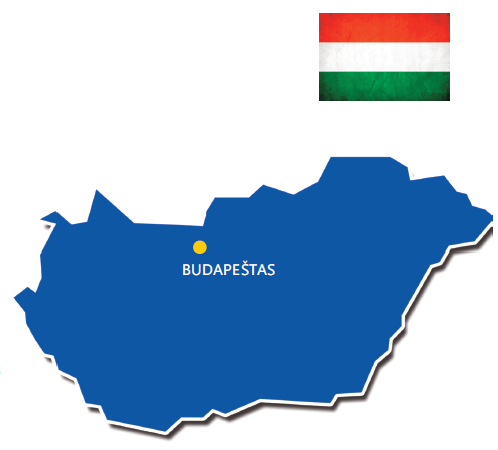 Delamode Baltics – a successful company in many European and world countries, offers its customers the services of freight transportation to and from Hungary. We carry about 20-40 freights each week on this route (we collect parts every day). We can offer high-quality and responsible transportation of non-standard, oversized freights. We also have trucks capable of transporting dangerous goods (truck that have ADR (dangerous goods) permits).
All goods in the direction of Hungary – Lithuania and vice versa are transported by awning covered trailers or auto trains. Delamode Baltics transports 6-10 full truckloads per week to and from Hungary. The transit time is only 3-4 days. CEMT permits are given to company's transport.
We guarantee the quality of our services, and in order to provide even greater customer convenience, we offer not only transportation, but also other services, such as the ability to complete all customs procedures. Also express delivery of special freight minibuses.
We strive to provide the highest level of transportation, and therefore we do not restrict our customers' capabilities. Delamode Baltics can transport various sizes of freights from Hungary (both individual boxes and full freight pads). There is also no restriction on the area from which the goods are taken – they can be collected in any country (Hungary) region.
Freight transportation in Hungary
Freight transportation in the direction of Hungary – under the most favorable conditions. Delamode Baltics is one of the leading transportation companies not only in Lithuania but also in other European countries, which gives an opportunity to offer customers competitive prices and attractive conditions for the transportation of goods not only to or from Hungary, but also to any other country.
Possibilities of freight transportation to Hungary
A wide network of partners is the reason for the extremely high quality of our services and exceptionally fast transportation. Freight transportation to and from Hungary is carried out according to a predefined and customer-friendly schedule, so you can accurately predict that your freight will reach the final destination. Working with us is to work with genuine professionals.
Service peculiarities
– Daily cargo collection and delivery
– Competitive prices and reliable delivery times
– Express collections and presentations
– 1-2 trailers with partial loads per week