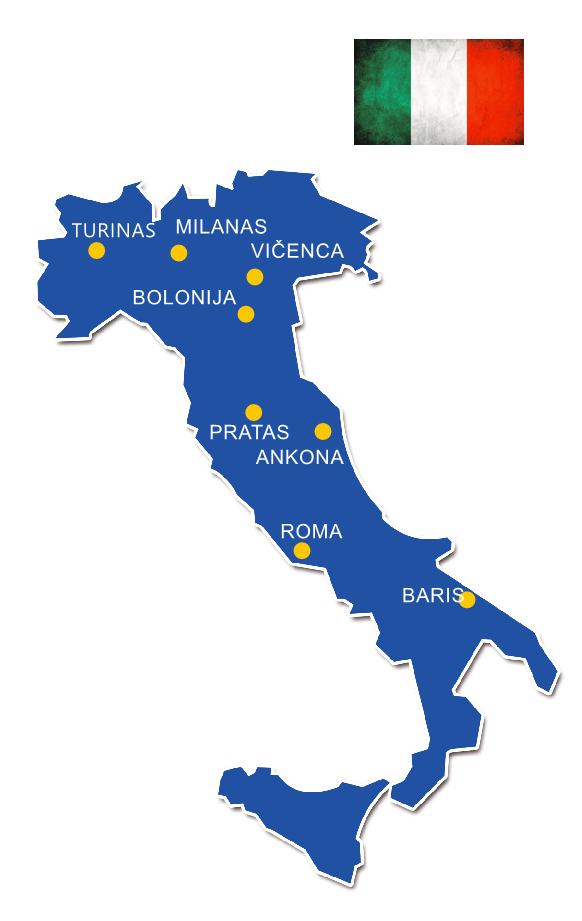 Delamode Baltics, with the continuous improvement of the quality of the services provided and the rapid development of a logistics network worldwide, offers its customers the most expeditious access to any destination in Italy. The abundance of freights shipped to the south encourages the development of services to and from Italy. In response to customer needs, we can boast about 800-900 freights per week in this direction, which is about 40-55 full machines. Delamode Baltics also does not restrict its own transportation of goods – both from and to Italy can be shipped in a variety of ways: from clothing to oversized freights, machinery or even dangerous goods, which requires ADR permits. Freights are transported in trailers, as well as autotrains. Our company realizes the transportation of temperature-sensitive cargoes. Freight transit time – 3 days.
Other
In order to maximize customer convenience, Delamode Baltics is committed to provide not only safe delivery of freights, but also modern technology – with innovative tracking systems that allow you to determine the precise location of your freight and observe its movement. In addition, in each truck, which transport freights from or to Italy, two drivers ensure that the purpose of the journey will be attained at the scheduled time.
Freight transportation in Italy
Italy is a vital export and import point for the markets of many countries, so we organize transportation in this direction very promptly and efficiently. Freight is rapidly transported to and from Italy and the volume of goods transported shows that we are delivering these services in real time. Please contact and Delamode Baltic will give you a worthy offer of freight transportation in the direction of Italy.
Possibilities of freight transportation to Italy
Taking into account the ever-growing need to import and export freights in the direction of Italy, we care to increase the supply of our services along with demand. Every day we invest in the development of opportunities, so we can offer almost unlimited transportation conditions for our clients, so that Delamode Baltics's freight transportation from and to Italy will satisfy all expectations.
Service peculiarities
– Express transportation with two drivers
– Daily cargo collection
– Flexible services
– Competitive prices and reliable delivery times
– Express collections and presentations (24-48 hours)
– ADR
– CEMT permissions
– Temperature cargo groupage/partload service