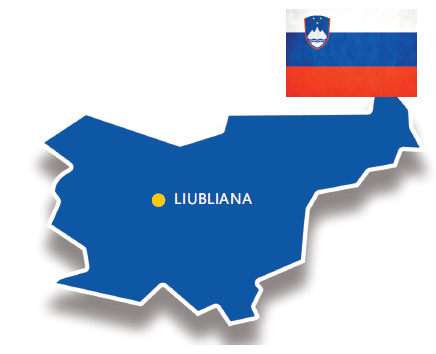 Looking for a reliable partner and the best conditions to reach Slovenia? Freight ransportation in this direction with Delamode Baltics is smooth and expeditious. We are one of the leading companies in this field, therefore, we are always able to offer not only a freight transportation option that suits the customer's best expectations, but also competitive prices and optimal delivery times. We can ensure that all Delamode Baltics trusted freights in Slovenia or in any other direction will reach their purpose at a precise timetable. We achieve such results because we continually improve the quality of our services and strive for maximum comfort, have a well-functioning service, and we can offer daily freights pickup and delivery to the recipient.
The journey to and from Slovenia is planned carefully and responsibly. We collect the partial freights for transportation in this direction every day, and we transport by reliable company's transport: auto trains and trailers (covered with awning). Within a week, we transport 1-2 trailers of such freights in the direction of Slovenia, and we offer express transportation services for those wishing for exceptional speed – then the freight is transported by minibus and the recipient reaches within 24-48 hours (if necessary, all freights can be delivered directly to the recipient).
Freight transportation in Slovenia
We will reach Slovenia together! Delamode Baltics is the exclusive attention to your needs and desires. We always take into account customer preferences and opportunities, therefore, we offer transportation solutions that are in line with the specific situation, and in this way we ensure that our freight transportation in the direction of Slovenia (to and from) is the best transportation conditions for each customer. Make sure you
Possibilities of freight transportation to Slovenia
Freight transportation to and from Slovenia is an extremely attractive way to carry freight in this direction. We surprise our customers with a short transit time, terminals in the most convenient places in the country, frequent transportation according to a predefined schedule and many other efficient freight transportation solutions. Try the highest quality services at the most reasonable prices.
Service peculiarities
– Express minibuses every 24-48 hours.
– Daily cargo collection and delivery
– Competitive prices and reliable delivery times
– 1-2 trailers with partial loads per week