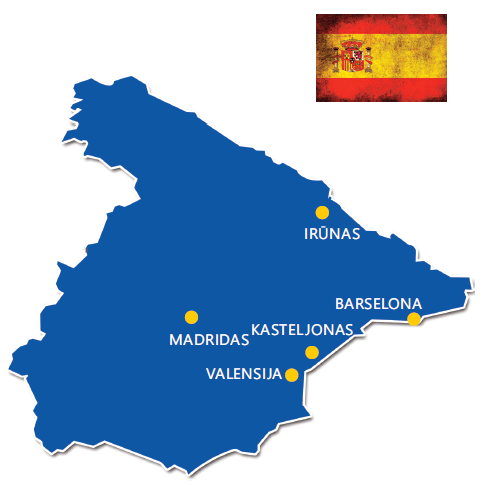 The warm and sunny Spain with Delamode Baltics is available instantly. Freights in this direction are transported every week – from the Baltic region depart twice, on Tuesdays and Fridays. In order to offer the fastest possible transportation of loads, we take partial freights from the sender daily. Responsibility and diligence make it possible to ensure productivity – within a week in the direction of Spain, we transport groupage freights from three to five trailers. Transportation services to and from this country are provided by company's transport – road trains or covered trailers. In order to ensure the smoothest transportation and less trouble for the client, we offer to arrange customs procedures, arrange the necessary documents, etc. We are a reliable and result-oriented partner who never disappoints his client, but rather the opposite – he focuses on his interests in every step. This is proved not only by the expeditious transportation of goods, but also by pleasant service, flexible transport conditions adapted to the needs of each customer.
Delamode Baltics customers are manufacturers who evaluate quality and loyalty, suppliers or buyers who are always committed to offering not only a flexible delivery term but also a competitive price. Our goal is to meet all expectations of our customers, and therefore we do not restrict ourselves to the transportation of ordinary goods – we can also transport ADR (dangerous) freights if needed to or from Spain.
Freight transportation in Spain
Delamode Baltics does not have long-term directions – with the help of our close partner network and diplomatic skills we can offer very fast freight transportation to any European country. Experience and a constant pursuit of excellence provide us with an opportunity to ensure that freight transportation in the direction of Spain or any other southern European country is conducted accurately and without inconvenience.
Possibilities of freight transportation to Spain
Cargo transportation to and from Spain is one of the most popular transportation routes. The well-developed logistics network of Delamode Balticsis a way to reach this country very quickly and successfully develop export or import. Expand your business by choosing a reliable partner – one of the leaders in logistics services not only in Lithuania but also in the Baltic States.
Service peculiarities
– ADR
– Express transportation with two drivers
– Daily cargo collection
– Flexible services
– Competitive prices and reliable delivery times
– 3-5 trailers with partial loads per week