Delamode Baltics provides a specialised rail freight service linking China, with Lithuania and the rest of Europe and the CIS states.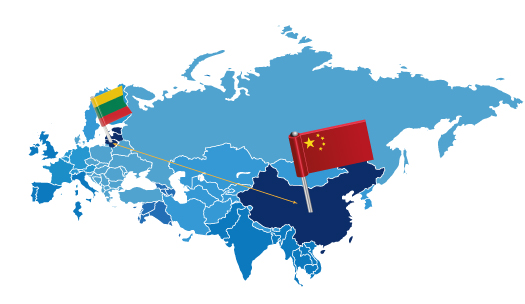 Our Rail freight management Solutions offers a fast, reliable and environmentally friendly transport alternative to air and sea freight.
If you are a business that exports and/or imports from China you can benefit from our direct service that offers weekly departures great flexibility and short transit times. In addition, rail freight presents a more environmentally friendly transport solutions that is cost efficient and greater capacity compared to air freight.
Service features:
Direct service
Weekly Friday departures
10-12 day transit time (Xian to Vilnius)
Additional services:
High standared of loading and shipment protection on broad-gauge railway
Cargo-handling and warehouse services
Shipment tracking
Freight Insurance
Customs clearances
Rail transport is almost twice as fast as by sea
A beneficial aspect of using rail transport offers over a sea transport for moving freight between China lies primarily in the significantly shorter transport time.
The time saved in terms of transit time compared to sea freight is considerable and can result in anything between 10 and 15 days quicker.
Goods transported 

The time-tested sea containers are used for rail transport
Ocean freight containers are typically used for rail transport when trading with China. Companies can therefore pack and load containers just as they would for sea transport. Due to the speed and efficiency of sending cargo via rail the service is also ideal for time critical shipments.
Pan European Solutions: Connecting China with Europe
Once your freight has arrived in Lithuania, we provide a high quality and fast road freight solution for delivering you freight to any part of European within 72 – 96hours.
Is our rail freight service right for you?
Choose rail freight if:
you want to organize transport of large volumes of goods over long distances
 you transport bulk, heavy goods or large items, especially to distant destinations, such as China and the Far East countries
you are looking for alternatives to road transport – especially where it is uneconomical and road infrastructure underdeveloped
you care about the environment – rail is a environmentally friendly means of transport
you care about the increased security of your shipments – contrary to popular belief, the railroad is the safest means of transport