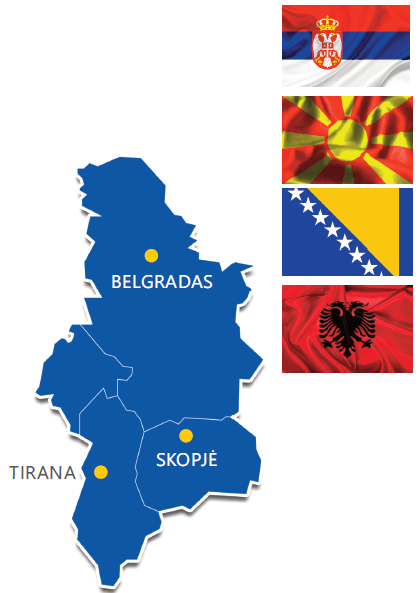 Freights with Delamode Baltics reach Serbia even more easily. The company's transportation to this country is driven by trusted and experienced drivers, so we can ensure that their delivery is safe and timely. The collection and preparation of the freights is carried out every day, so that the latter operatively travels both to and from Serbia. We take care of our clients' interests, therefore, we not only guarantee that the services we provide are of the highest quality, but we always offer the best possible solutions for the needs and requirements of the client – the prices offered by us for freight from and to Serbia are always competitive and affordable for the customer.
We also take care of the freight – to deliver we offer not only ordinary, standard but also dangerous (Delamode Baltics freight transport, transporting goods in Serbia and in various directions, with ADR – dangerous goods permits). We are responsible for planning the entire transportation process from picking up to delivery to the final recipient. In order to achieve the highest results, we organize systematic departure and arrival of freight transport from existing terminals in many parts of the world. On the Serbian route Delamode Baltics machines leave at the end of each week – on Fridays.
Only the exclusive attention and care gives our team the opportunity to be one of the leaders in their field.
Freight transportation in Serbia
Delamode Baltics offers a wide range of services adapted to the client's needs. We can not only transport goods, but also arrange for their storage or loading operations. In addition, to arrange all documents for the unrestricted transportation of goods. To use the services of Delamode Baltics is the simplest way to reach the right directions.
Possibilities of freight transportation to Serbia
Delamode Baltics offers its customers the opportunity to use constantly expanding services and increasing freight transportation to Serbia and other countries. We strive to make freight transport as smooth as possible and last as short as possible – we invest in improving service quality and service, so today we can rejoice with our loyal customers and not one deserved reward.
Service peculiarities
– Daily cargo collection and delivery
– Competitive prices and reliable delivery times
– 1 trailer with partial loads per week