Delamode Baltics receives Premium Coface certificate
01. 19. 2021
We are pleased to announce that Delamode Baltics has been awarded the Premium Quality Coface Certification for Trade Credit Risk Management.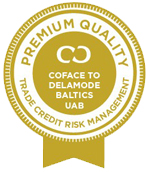 Receipt of the Coface premium quality certification confirms and demonstrates Delamode Baltics exceptional approach to business risk management and reinforces us as a long lasting top quality company in trade credit risk management.
About Coface
Over 70 years of experience and the most finely meshed international network have made Coface a reference in credit insurance, risk management and the global economy.
 
Coface's services and solutions protect and help companies take credit decisions to improve their ability to sell on both their domestic and export markets.