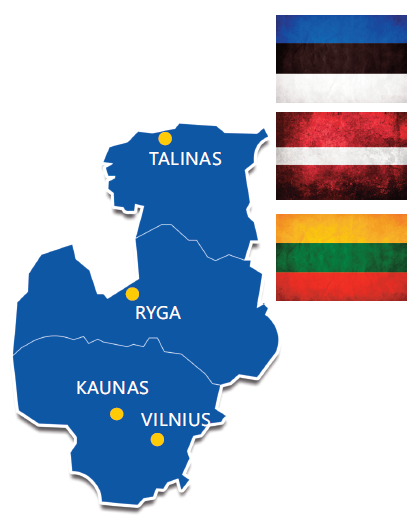 Freight transportation offered by Delamode Baltics between European countries – it's always smooth, and services provided between the countries of the Baltic region are extremely fast. Freight is transported from and to Estonia every day – groupage freight is constantly transported in this direction. During the week Delamode Baltics carries about 20-30 trailers. Freights to and from Estonia are collected and delivered to the recipient on a daily basis. We strive to surprise our customers not only with the smooth scheduled transportation, but also its duration – the transit time in the direction of Estonia lasts from just 24 hours to 48 hours. In addition, freights can be picked up or delivered on Sundays.
We are a professional, flexible service provider, always striving for maximum customer convenience, and therefore we offer additional services. Freight transportation from and to Estonia with our team is not only a timely route, it is also an opportunity to get freights up to the door (we can deliver all freights we have been entrusted to or from Estonia to the recipient's door), as well as – to use fast-moving services (in addition to the usual freight transportation, Delamode Baltics also offers express delivery of freight for a specially tailored company transport).
We strive to become an unsurpassed leader in our field, so we ensure that we always offer a competitive price, flexible delivery terms and a delivery option that best suits the customer's needs.
Freight transportation in Estonia
Freight transport in Estonia is one of the best ways to reach Estonia quickly and comfortably and to expand trade relations with neighboring countries. Offering a very fast delivery from both to Estonia and from Estonia, we strive to meet the ever-growing market demand and offer our customers a convenient transportation service that suits their expectations. Working with us is to work with one of the best logistics professionals.
Possibilities of freight transportation to Estonia
Freights to Estonia deliver from all European and world cities by trucks. We have chosen strategically convenient terminals, therefore we can assure that freight transportation will not cause any difficulties and will be carried out exactly as planned. Choose the flexible conditions and professional services provided to you. Choose a high quality Delamode Baltics service.
Service peculiarities
– Daily cargo collection and delivery
– Competitive prices and reliable delivery times
– Delivery to capitals within 24 hours, other cities within 48 hours.
– Possibility to take freight from / to terminal on Sundays
– PREMIUM SERVICE – delivery within 24 hours. in all the Baltic States
– 20-30 trailers with partial loads per week