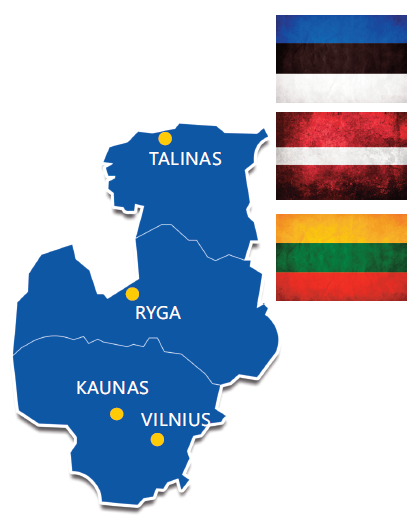 You can reach neighboring Latvia even faster and more smoothly with Delamode Baltics. By this route (to and from Latvia) we transport various freights, take care of safely and timely delivery. Groupage freight transportation in the direction of Latvia is taking place every day. The transit time for these freights is from 24 to 48 hours. We strive for maximum convenience for our customers, so we can pick up and deliver freights on a daily basis. We also offer you an extraordinary express delivery service. By choosing it, freights are shipped by Delamode Baltics minibusses for special express deliveries, thus reaching the final recipient faster than usual. We are responsible for the seriously looking company in our work, so we deliver every freight we have been entrusted directly to the door. In addition, we aim to do not restrict our customers, so we can collect and deliver freights on any day of the week, including Sunday. Every customer is an asset to us, and so more and more of them trust their freights to us. We are proud to boast of a wide range of confident customers in our company and only in the direction of Latvia, 20-30 trains of groupage freight leave per week.
Freight transportation in Latvia
One of the fastest routes – freight transportation to or from Latvia. Highly efficient and smooth freight transportation services are provided between the Baltic States. Freight transportation to other countries of North and South Europe is also fast. Take advantage of the always flexible Delamode Baltics freight transportation conditions provided by air, land and waterways.
Possibilities of freight transportation to Latvia
Use Delamode Baltics for freight transportation and enjoy unrestricted transportation. We can offer you to transport any freight to Latvia – from special attention required to small parts. We ensure that freight transportation will be carried out safely and, if necessary, at an extremely high speed or up to the door of the recipient. Choose us from select logistics leaders in the Baltic States.
Service peculiarities
– Daily cargo collection and delivery
– Competitive prices and reliable delivery times
– Delivery to capitals within 24 hours, other cities within 48 hours.
– Possibility to take freight from / to terminal on Sundays
– PREMIUM SERVICE – Delivery within 24 hours. in all the Baltic States
– 20-30 trailers with partial loads per week