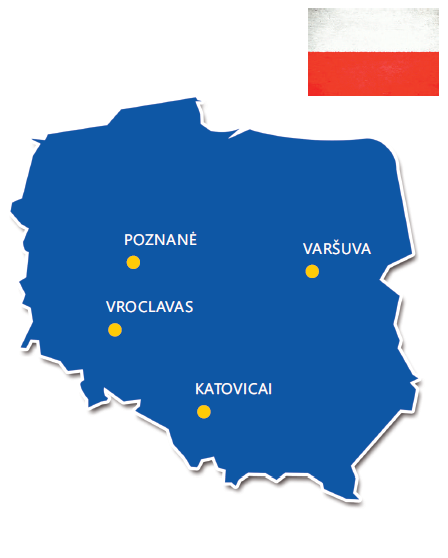 With Delamode Baltics is always easy and convenient to reach neighboring countries. High-quality services, professional drivers and punctual freight transportation – this is how every transportation looks which is done by us to or from Poland. Every week 24 fully loaded machines run on the same route either one way or the other. The experience and continuous improvement of the quality of the provided services offers the possibility of safe and always timely freight delivery by solid, palatable or double deck trailers.
We also provide distribution services throughout the Baltic Region more than within 24 hours. Aiming to meet the needs of the client, it provides such flexible services.
Other services
Besides high quality and timely freight delivery to or from Poland, Delamode Baltics can offer other services, such as C.O.D (Cash on Delivery) or distribution. Contact us and we ensure that we will find the best solution for your freight delivery.
Freight transportation in Poland
To trust your freights to Delamode Baltics it means to trust them to experienced and knowledgeable in its work logistics specialists. Freight transportation in Poland is unlimited transportation possibilities. We can offer favorable conditions, competitive price and safe transportation. Contact us for freight transportation in Poland and we will definitely be able to offer the best solution for your expectations.
Possibilities of freight transportation in Poland
You are considering whether we will be able to offer the right conditions for freight transportation to Poland? With Delamode Baltics, all freight transportation in all directions is fast and safe. It does not matter whether you need to transport standard, oversized or dangerous good – we will ensure that everything would go smoothly and freight would reach the destination in time. There is no freight, Delamode Baltics could not transport!
Service peculiarities
– Daily departures
– Flexible services
– Competitive prices and reliable delivery times
– Express collections and presentations
– C.O.D service
– 15-20 trailers with partial loads per week