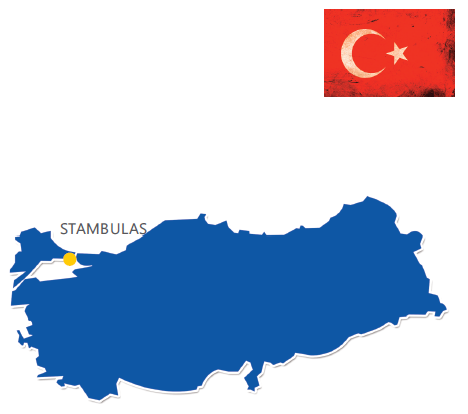 Using high quality and always professional Delamode Baltics services, you can easily access the Middle East as well. Systematic freight transportation from and to Turkey ensures prompt and smooth work, therefore we can guarantee that freights will be delivered on time. In addition, we can offer distribution services throughout the Baltic Region within 24 hours.
Each week, more than 100 freights are transported through this route (the number usually ranges from 120 to 150). Freight transportation from / to Turkey is carried out with a curtain trailer. This route transports various goods: fabrics, car parts, equipment, furniture, foodstuffs, etc.
In order to make the most convenient connection, Delamode Baltics's main terminal in Turkey is located in the city of Istanbul.
Freight transportation to Turkey
We also perform high quality freight transportation services to Turkey. In a week, Delamode Baltics transports 5 to 10 full truckloads to Turkey. Freight vehicles leave Turkey every week on Tuesdays and Fridays. On Friday, several machines leave for two drivers to ensure the fastest possible service.
Freights can be delivered all over the Baltic Region, to the largest cities in the region: Vilnius, Kaunas, Riga and Tallinn, from which later they also reach smaller cities or towns.
In order to guarantee the maximum comfort to the customers, when the customs procedures are done, all freights from Turkey are delivered directly to the door of the recipient.
Other offered services
Without operative freight transportation from and to Turkey, Delamode Baltics can offer a number of other services to reduce the customer's troubles. When transporting freights, we can take care not only for the safe delivery of them, but also for the handling of all customs documents, customs clearance. We also provide freight sorting, distribution services to several recipients. Need advice? Delamode Baltics team is ready to answer all your questions. We will help you save valuable time and reduce transportation costs.
Freight transportation in Turkey
Looking for a way to reach Turkey quickly and safely? Quality, smooth freight transportation and timely delivery is the most important value? Well, then you are just where it is needed, because Delamode Baltics can offer it at extremely attractive prices. We take into account your preferences and the freight we need to transport features and we provide an expectation-matching offer at competitive prices.
Service peculiarities
– Daily cargo collection and delivery
– Competitive prices and reliable delivery times
– FCA and EXW services
– ADR
– 8-12 trailers with partial loads