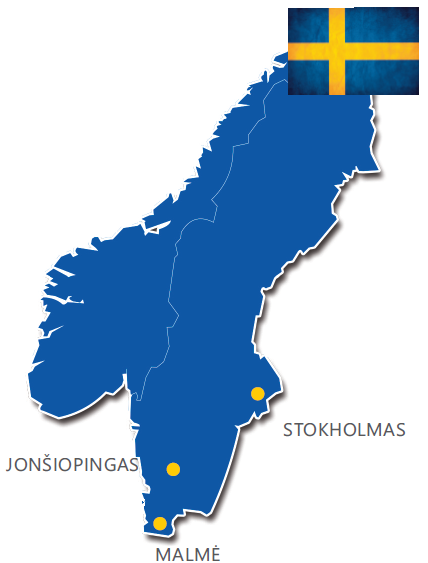 Sweden, like other Scandinavian countries, are quickly and comfortably reachable with Delamode Baltics. Our experienced staff and responsibly supervised transport are an opportunity to provide our customers with a smooth and safe transportation of cargo in this direction. Such an attitude to work and the concern for customer convenience are factors that can lead to surprising results. In the direction of Sweden alone, Delamode Baltics carries 7-9 trailers for groupage cargo each week. We always strive for maximum speed, therefore, partial cargoes which are dedicated to transport both to and from Sweden are collected every day.
Cargo in Sweden is transported by two modes of transport: road trains or awning coated trailers. In addition, we can transport dangerous goods to and from Sweden – Delamode Baltics has specially designed vehicles for which ADR (Dangerous Goods) permits are issued. We always strive to offer the solution that best suits the customer's needs. Our services are flexible and reliable transportation of cargo, competitive price and timely delivery of the destination.
Freight transportation in Sweden
The partners and clients who earned several awards for successfully expanding activities, constantly investing in the quality of the provided services and staff qualification, are evaluated – such is Delamode Baltics, which invites you to get acquainted with the transportation possibilities. Cargo shipping in Sweden and any other Nordic country has never been so easy and fast.
Possibilities of freight transportation to Sweden
UAB "Delamode Baltics" offers to transport various cargo to Sweden (full, partial and dangerous, for which specific permits are required for transportation). We are experienced and profitable knowledge partner across Europe, so we can offer you high-quality services and ensure safe transportation of your cargo, but also advise which type of transportation is most appropriate for you. Looking forward to contact!
Service peculiarities
-Competitive prices and reliable delivery times
-Flexible services
-Cash on delivery services
-Dangerous goods
-7-9 trailers with partial loads per week