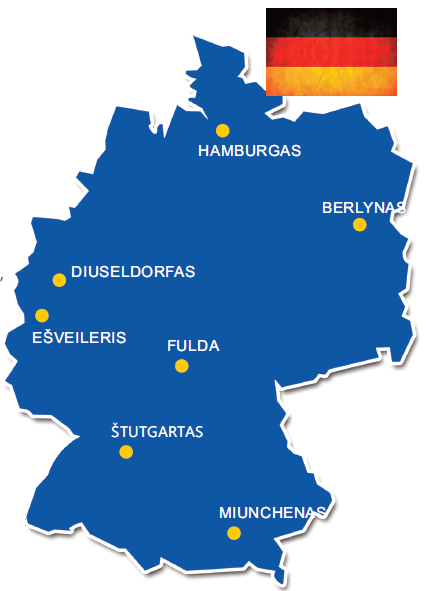 Delamode Baltics can offer its customers an extremely attractive transportation and delivery conditions for freight transportation to and from Germany. In this direction, freight transportation is constantly organized, its quality and time is improved, therefore today we can offer only 3-4 calendar days of transit to Germany or from Germany.
Our goal is to provide you with the most convenient and prompt service, so Delamode Baltics collects the delivered partial freights every day to reach the final route within the shortest possible time. In total, we carry between 8 and 10 trailers of such freight each week.
Freights transported by Delamode Baltics to Germany and other countries by freight transport – well-maintained trucks and awning covered trailers or auto trains. We ensure safe freight transportation both to and from Germany and to any other country, therefore, we constantly check the technical condition of the car and ensure that it is perfect.
Delamode Baltics is a reliable and honest partner on the way to and from Germany.
Freight transportation in Germany
Freight transportation from Germany Delamode Baltics offers very favorable conditions – all partial freights from this country are transported at fixed prices, and their transportation is surprisingly fast – the delivery or pickup of goods from any German region throughout the country lasts only from 24 to 48 hours. Similarly, the term for distribution is that it lasts no longer than 24 hours in the entire Baltic Sea Region. In addition, we offer not only quick but also reliable delivery – all our transported freights can be delivered directly to the door of the recipient.
Possibilities of freight transportation to Germany
Germany is one of the countries where the transportation of goods is extremely intensive. In response to our customers' needs, we strive to offer transportation services that meet their expectations, therefore we constantly supervise the market and invest in improving quality and expanding our existing logistics network. Today, freight transportation done by Delamode Balticsdelivers in the direction of Germany – one of the most effective ways to implement the required project.
Service peculiarities
– Daily cargo collection
– Fixed partial freight prices from all over Germany
– Flexible services
– In the whole Germany, the goods are collected within 24-48 hours
– 8-10 trailers with partial loads per week