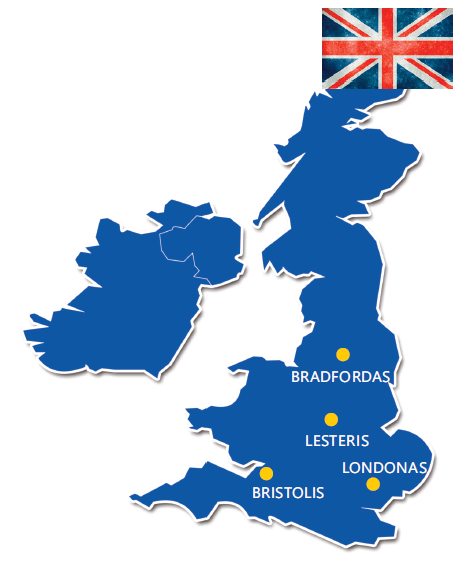 Along with Delamode Baltics, freights travels not only in the Old Continent, but also easily reaches the United Kingdom. The volumes of freights transported in this direction are particularly large, bringing up to 20 full trucks every week from and to the United Kingdom. And for a total of seven days Delamode Baltics transports about 150 to 200 freights. The constantly growing needs of our customers do not allow us to stand still, so we are constantly striving to improve the quality of our services and we can already enjoy the relatively short transit time, which lasts for 3-4 days. Also, the distribution is well done across the Baltic Sea – freight reaches the target in any Baltic country within 24 hours. How do we manage to achieve such results? Everything is about responsible attitude to work and every client and, of course, professionalism. In the UK, we work with 5 terminals in Bradford, Bristol, London, Leicester and Glasgow, which means that fast shipping from and to the United Kingdom is guaranteed. And wishing to get freights even faster, we can offer an express delivery of freights by company's minibuses.
Freight transportation in United Kingdom
Freight transportation in the United Kingdom is the most rapidly provided and fast developed service of Delamode Baltics, so we are glad to announce that from now on, our company's freight transport leaves the UK three times a week. So you can be ensured that Delamode Baltics's freight transportation offers really meet your requirements.
Possibilities of freight transportation to United Kingdom
We strive for the continuous development of our services and the ability to provide customers with unbundling proposals. Freight transportation to and from the United Kingdom is a perfect proof that systematic pursuit of goals is not meaningless and today Delamode Baltic can offer its customers not only pleasant and active communication with customers, but also the provision of high quality services at the best prices in the market.
Service peculiarities
– Daily cargo collection
– Flexible services
– Competitive prices and reliable delivery times
– Hanging clothes transport
– Express collections and presentations
– ADR
– 15-20 trailers with partial loads per week